October | Two Day | Portraiture Master Class | Gareth Reid
sold out
October | Two Day | Portraiture Master Class | Gareth Reid
2 Day Portraiture Master class
We are delighted to welcome Gareth back to the Schoolhouse for Art Autumn 2019. He offers a great opportunity to learn deeply, intensively and informally. This is a chance to participate in a Workshop with a true Master Artist.

The key to drawing well from life is intensive observation and tenacity. This doesn't have to translate into tight expressionless work as many think because if the artist is always pushing and the eye is as rigorous as possible the hand can be as vigorous as it wants. This is intersection is where exciting, well observed work comes from.

We will look at putting on/rubbing out, strengthening/losing edges, moving away from the outline, working tonally, having a go, getting close then closer still.

The aim of the course is to improve observation in portraiture by looking critically and daringly at shapes and relationships, by focusing on the structure of the head, to loosen up, to learn how to deal with mistakes, to think of a portrait as not just an arrangement of isolated features but something more life-like, solid and convincing.

Whilst the focus is on learning, the atmosphere is one of fun and enjoyment!
Meet Gareth
Winner of Sky Arts Portrait Artist of the Year 2017.
Born in Belfast, Gareth studied at University of Ulster, Glasgow School of Art and Florence Academy of Art, and now lives and works in Glasgow.
He has shown on five occasions at the BP Portrait Award in the National Portrait Gallery in London, and in 2007 won the BP Travel Award. Having travelled to Finland, he gave talks on his work in the National Gallery of Scotland, Edinburgh and the National Portrait Gallery, London. His work has been published by the NPG.
Previous commissions include Graham Norton for the National Gallery of Ireland, retiral portraits of Sir George Mathewson and Stephen Hester for RBS, Lord Gill and Billy Connolly. His work is held in the collections of RBS, Ralph Lauren, The Old Bailey, the Arts Council of Northern Ireland and the National Gallery of Ireland.
Gareth is a portraiture and life drawing tutor previously in Con Ed at Glasgow School of Art, and currently at the Centre for Lifelong Learning, Strathclyde University. He also runs his his own drawing classes around Glasgow.
We are delighted to welcome Gareth Reid to the Schoolhouse for Art.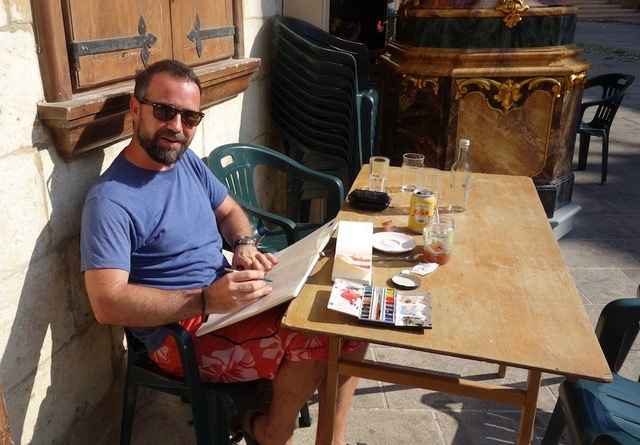 Blade
Willow/vine charcoal
Non-putty rubber
A2 cartridge
Masking tape/clips
Charcoal pencil/white chalk optional