Wednesday (Morning) x 4 | Portrait Painting from Life | Nicholas Robinson
Wednesday (Morning) x 4 | Portrait Painting from Life | Nicholas Robinson
Wednesdays x 4 weeks
9.45am - 1.15pm (3.5hrs)
Block 1 : September 4th, 11th, 18th, 25th
Further blocks to be released soon.
Please read our Terms and Conditions
Painting the portrait is one of the longest traditions in oil painting; from van Eyck, Titian and Velázquez through to Reynolds, Romney and Raeburn and up to our present day.
This 4 week class (12 hours in total) using a live model offers a wonderful opportunity for in-depth study of portraiture with Nicholas Robinson.
Nicholas is an FAA portrait drawing award winner, a Hennessy portrait prize nominee, a Zurich portrait prize nominee and a Royal Academy of Portrait Artists exhibitor.
This series of classes is designed to present the process of portrait painting focussing on creating realistic form and light as well as the likeness, personality and expression of the sitter.
Each participant will work from the model receiving one-to-one instruction over the block in drawing accurately, colour mixing, use of oil paints and materials, painting techniques and theory.
Materials List
The basic materials list is:
• a canvas
(suggested size 40x30cm up to 90x50cm, but it's up to the individual 60x40cm is what I would use)
• Brushes
• Palette
• Palette knife
• Black/ raw umber /red /ochre /white oils
• Sansodor
• A preferred medium.
The detailed materials list is:
• brown baking paper (for storing oil paint)
• Vanish soap (for cleaning brushes)
• Sansodor (odourless solvent)
• Preferred medium (I would use linseed oil)
• Medium cup
• Wooden palette
• Palette knife
• Canvas

Oil-paints.
Michael Harding/ Old Holland recommended
1. Raw Umber
2. Ultramarine Blue
3. Titanium White
4. Yellow ochre or Old Holland Yellow Ochre Light
5. Cadmium red
6. Transparent Red Oxide
7. Alizarin Crimson
8. Ivory black
Brushes:
A range of about 10+ flat and filbert brushes in different sizes. From Evans art shop I suggest:
• Winton Flats 1 to 4
• Winton Filberts 1 to 8
• Winton Short Flat Brights 2 to 8
• Richard Oliver Flat Hogs 0 to 4
• Richard Oliver Hog Filberts 1 to 6 Also the Mr. Price Royal & Langnickel brushes are fine.
Get 2 packets of those and you're away in a hack. (Pictured)
Plumb line (a 60-70cm piece of thin string or thread with a small fishing weight attached to one end but I will bring these)
• hand mirror
• black mirror (a piece of Lacobel black glass available from the glazier)
CANVAS PREP
To paint a life size head and hands portrait like this Repin, you want about 90x50cm
For a life size head and shoulders alone like this Serov get approx 60x40cm approx. (I would suggest this size) For a smaller than life size head alone get about 40cmx30cm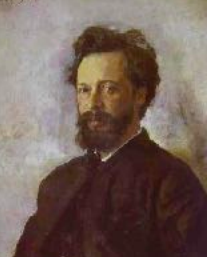 About Nicholas
Born and brought up in Co. Wicklow, Ireland, as a post-graduate I attended the Florence Academy of Art in Sweden under Swedish painter Joakim Ericsson. During my 3 years there I received two drawing awards before graduating, returning to Ireland in 2014. I graduated from Crawford College of Art & Design, Cork with a BA in 2001, from Assumption University, Bangkok with an MEd in 2008 and from NCAD, Dublin with a Higher Diploma in Education in 2009.
I work out of my studio in county Wicklow drawing and painting from life my own artwork and commissions also. I exhibit nationally and abroad and teach in various studios and ateliers in Ireland.
SELECTED EXHIBITIONS
Människans Form, Signal Art Centre, Co. Wicklow, Feb 2019

Zurich Portrait Prize National Gallery of Ireland, October 2018 - Jan 2019

Royal Society of Portrait Painters (RP) Annual Exhibition 2018 Mall Galleries, London, May 2018

Hennessy Portrait Prize 2017 National Gallery of Ireland, December 2018

RHA Annual Exhibition Royal Hibernian Academy, Dublin, May - August 2018, 2017, 2015, 2014, 2013, 2012

Royal Ulster Academy of Arts 136th Annual Exhibition Royal Ulster Academy, Belfast, October 2017 - January 2018

Royal Ulster Academy of Arts 135th Annual Exhibition Royal Ulster Academy, Belfast,
October - January 2017

Winter Show 2015 Gormley's Fine Art, Dublin, Oct - Jan 2016

2015 AIB Éigse Open Submission Visual Centre, Carlow, May - August 2015

Spring Show 2013 Jorgensen Fine Art, Dublin, May 2013

Open Exhibition 2013 Mermaid Arts Centre, Bray, April - June 2013

Positions, Wandesford Gallery, Cork, January 2012
SELECTED AWARDS
Shortlisted Zurich Portrait Prize National Gallery of Ireland, October 2018 - Jan 2019
Shortlisted Hennessy Portrait Prize 2017 National Gallery of Ireland, December 2018

3rd place in Portraiture 13th Annual ARC Salon 2018, USA
Finalist 12th Annual ARC Salon 2017, USA

Winner FAA Best Portrait Drawing 2012-2013, Sweden
Winner FAA Best Drawing of the Intensive Drawing Programme, Sweden, 2010-2011