Wednesday (Evenings) x 4 | Life Drawing (Tutored) | Nicholas Robinson


Wednesday (Evenings) x 4 | Life Drawing (Tutored) | Nicholas Robinson
Wednesday Evenings
6.45pm - 9.15pm (2.5hrs)
Block 1 : September 4th, 11th, 18th, 25th
Block 2 : October 2nd, 9th, 16th, 23rd
Block 3 : October 30th, November 6th, 13th, 20th
Block 4 : November 27th, December 4th, 11th, 18th
Please read our Terms & Conditions
About This Tutored Life Drawing Course
A 4 week short course in figure design and drawing basics.
Drawing the figure teaches us fundamental skills which are applicable when drawing any other subject. Improving observational drawing skills is also one of the most important ways to improve in painting, sculpting or whatever our chosen artistic discipline may be.
Each week we will draw one full nude pose focussing on developing accuracy and design skills in describing the movement, proportion and anatomy of the figure. The instruction is based on individual critique with discussion of pencil and charcoal drawing techniques, materials, observational methods and tools and drawing theories and concepts and simple anatomy.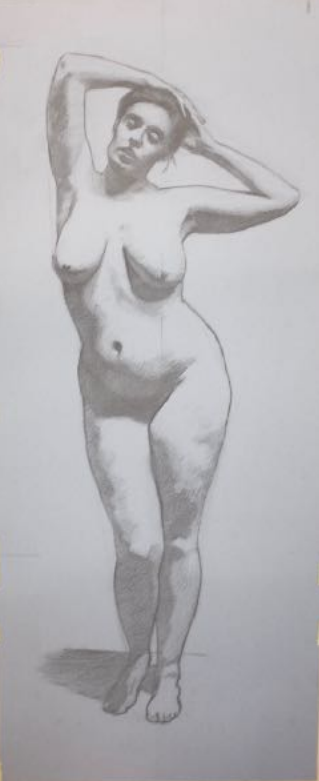 Nicholas finished his post-graduate studies at Ireland's National College of Art & Design (NCAD) in 2009, having previously graduated from the Crawford College of Art & Design, Cork. Thoroughly disillusioned by art education in Ireland, Nicholas searched elsewhere and was introduced to the American ateliers in Florence, in which students study exclusively from life, by the Irish painter Gearoid Hayes.
Subsequently Nicholas quit his teaching career and attended the Florence Academy of Art, Sweden under the tutelage of the Swedish painter Joakim Ericsson. Nicholas received a pair of drawing awards during his time at the school in Sweden and returned to Ireland in 2013. He is now exhibiting nationally, and works and teaches out of in his studio in Dublin city-centre.
Materials
a couple of sheets of A4 and A3 plain white cartridge paper - Nick recommends Fabriano Tiziano 160g/m2 or the Canford card a1 gun metal

a kneadable putty eraser- Nick recommends Faber Castell Kneadable Art Eraser which comes in yellow, red or blue.

a variety of pencils, maybe 2H, H, HB, B, 2B

a retractable knife (to sharpen the pencils)

masking tape